THE ASO VALLEY
#VISITVALDASO
The Aso Valley: a territory of excellence named "The Garden on Le Marche region"
The Aso Valley is a magnificent area marked by historical villages and Sibillini Mountains, whose peaks are snowed even in Spring. This mountain chain is the background of a landscape characterized by fascinating colors, country houses, woods, blooming orchards, vineyards, gardens and lush fields.
A valley whose inhabitants were able to keep the peculiarities of the territory in terms of culture and nature: landscapes, traditions, enogastronomic products, festivals and folkloric feasts.
This valley is situated in the southern part of Le Marche region and it extends for 70 km. It is formed by the Aso River that originates from the Porche mountain and Cima della Prata mountain and flows into the Adriatic Sea, crossing all over the valley.
The Aso Valley is composed by several villages with ancient histories and traditions, such as that of Campofilone, famous in the world for its "Maccheroncini PGI". In this valley there are also two villages that belong to the association of "I Borghi più belli d'Italia": Moresco and Montefiore dell'Aso.

These two small town are steeped in history: indeed, you can fell a mediaval atmosphere even nowadays. Besides its architectural beauties and its historical-cultural heritage, such as the archaeological area of "La Cuma" in Monte Rinaldo, the Aso Valley has also an enogastronomic culture that is particularly appreciated and widespread abroad.
A dish of the local cuisine is "Olive Fritte stuffed with ciauscolo" that has been passed down for generations since 1800s. The "Tagliatelle Fritte", created by a chef of Monterubbiano, is one of the most tasty typical dishes of the area.
Other local enogastronomic products are the Ciauscolo, the salami PGI and the sausage of Carassai, with which you can combine a glass of refined red wine.
The productive agricultural vocation of peaches, apricots, and plums change the spring landscapes into a color explosion.

"Came to an end, my journey can only continue towards the starting point … "
Giosuè Carducci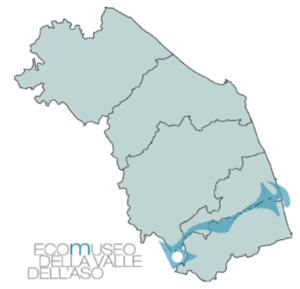 Create your perfect holiday with Turismarche Incoming and live an unforgettable experience in the Aso Valley